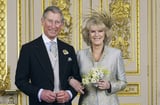 As The Crown moves closer to the present day, we're seeing more and more familiar storylines, like Prince Charles and Camilla Parker Bowles's ongoing relationship. First introduced in the third season, it's in full swing in season four, complete with the love triangle involving Princess Diana before and during Charles and Diana's marriage. Although we've all gotten used to the sight of Camilla by Charles's side in recent years, it's impossible to forget the intense controversy their relationship started out with and all the twists and turns along the way. Love may conquer all, but it's been a long road to get there!
Ahead, we've put together a comprehensive timeline of some of the most important moments in Charles and Camilla's relationship. From their first meeting, to their marriages to other people, to finally, getting to be together, here's what you should know about the future ruling couple.
————————
Originally published at https://www.popsugar.com/celebrity/prince-charles-camilla-relationship-timeline-47965783 on .