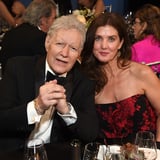 Alex Trebek's wife, Jean, has spoken out in the wake of the Jeopardy! host's death. On Nov. 11, Jean shared a throwback photo of her and Alex on their wedding day. In the snap, Alex is sporting a dashing white tuxedo while Jean wears a white gown. "My family and I sincerely thank you all for your compassionate messages and generosity," Jean captioned the picture. "Your expressions have truly touched our hearts. Thank you so very, very much. Many Blessings to all, Jean Trebek." Alex and Jean first met at a party in 1988 and started dating shortly after. The following year, Alex proposed to Jean on her 26th birthday, and they tied the knot on April 30, 1990.
On Sunday, a statement released by Jeopardy! confirmed that Alex died at age 80 after battling stage four pancreatic cancer. "Jeopardy! is saddened to share that Alex Trebek passed away peacefully at home early this morning, surrounded by family and friends," the statement read. "Thank you, Alex." The following day, Jeopardy!'s executive producer Mike Richards honored the late host in a video tribute, saying, "He will forever be an inspiration for his constant desire to learn, his kindness, and for his love of his family." Alex is survived by Jean and their children, Matthew, 30, and Emily, 27.
————————
Originally published at https://www.popsugar.com/celebrity/alex-trebek-wife-jean-instagram-tribute-47964781 on .