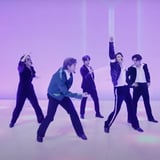 BTS had the ARMY buzzing after their performance at the virtual Melon Music Awards on Dec. 5. Although they were down a member (rapper Suga is currently recovering from a shoulder injury), the K-pop squad delivered full-blown productions, starting with a classical rendition of "Black Swan" and a dance number in which Jimin and Jungkook took center stage. The pair gracefully moved together, leaving viewers in awe as Jungkook lifted Jimin and spun him around. The group then transitioned into their tracks "ON," "Life Goes On," and "Dynamite," while showing off their signature style.
BTS also took home a handful of awards during the show. Not only did they snag all three Daesangs (grand prizes) – song of the year for "Dynamite," album of the year for Map of the Soul: 7, and artist of the year – but they also won the best dance award for males, thanks to "Dynamite," and the coveted Netizen's Choice award. Suga also earned the best rock honor for his "Eight" collaboration with singer IU. Watch their entire set from the big night above!
————————
Originally published at https://www.popsugar.com/entertainment/bts-melon-music-awards-performance-video-2020-48034326 on .