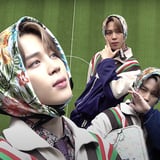 2021 may still be a ways off, but the members of BTS are already gearing up for it with their annual season's greetings video. This year, Jin, Suga, J-Hope, RM, Jimin, V, and Jungkook go retro on an aesthetic trip from the '60s to the '90s. The little nods and looks the group give the camera immediately had fans wondering how they could be pool cues, cups of coffee, and scarves. Each member even has a persona complete with a nickname that fits their vibe.
Is the video ridiculous? Yes. Did I watch it 50 times for a little boost of serotonin? Also yes. It's hard to pick a favorite moment, although babushka-wearing Jimin is up there with V trying (and failing) to open a bottle. If you're in need of a little one-on-one time with each member, go on and watch the full video above.
————————
Originally published at https://www.popsugar.com/entertainment/bts-2021-season-greetings-video-47958357 on .