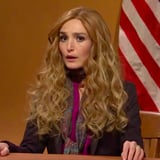 The defense calls Nicole Kidman's character from The Undoing. pic.twitter.com/IPYSfQcci3

– Saturday Night Live – SNL (@nbcsnl) December 6, 2020
Saturday Night Live made a grand return on Dec. 6, and they didn't hold back with the hilarious impressions. During the Cold Open, the show spoofed the recent Michigan hearing with Kate McKinnon as Rudy Giuliani and Cecily Strong as Mellissa Carone. While Strong was pretty spot-on as Carone – right down to the messy bun – it was Chloe Fineman's impression of Nicole Kidman that really made us do a double take. In the skit, she parodied the Australian actress's recent role on HBO's The Undoing, and it's scarily accurate. If we closed our eyes, we'd think it was actually Kidman speaking! From Drew Barrymore to Phoebe Waller-Bridge, Fineman is proving to be the queen of impressions. Watch the hilarious clip from the skit above.
————————
Originally published at https://www.popsugar.com/entertainment/snl-nicole-kidman-on-the-undoing-impression-video-48034456 on .