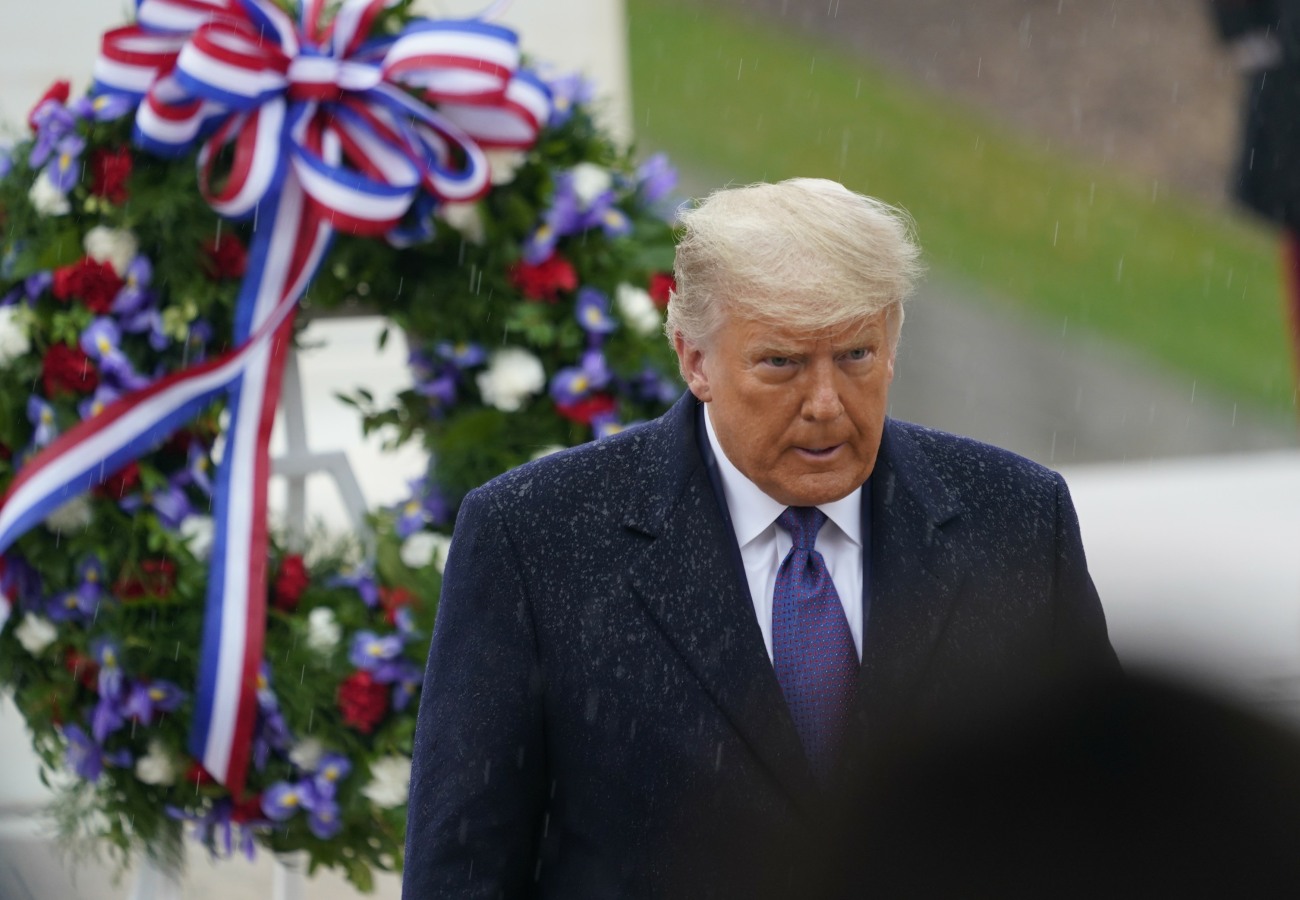 Donald Trump had not been on camera in five days before yesterday. He was photographed, at a distance, at his golf club over the weekend, but the only "public statements" he made in five days' time was through a series of unhinged tweets. I still like to imagine him in his baby bunker, panicking and screaming into the MAGA abyss. Anyway, he finally left his suckbaby bunker and made a public appearance at Arlington for Veterans Day. He arrived late, and he looked like he was seething his way through the ceremony to honor the fallen. I'm not sure why he even bothered, especially considering that he thinks people who serve their country in uniform are losers and suckers.
I didn't know this until people discussed it on Twitter, but even the "president" isn't supposed to salute if he or she never served in uniform. Trump should have simply put his hand over his heart, like Mother's Husband did.
Incidentally, this story came out on Veterans Day – the losing Trump campaign has, obviously, filed a bunch of nuisance lawsuits in various states won by Joe Biden. Trump's lawyers have submitted lists of who they say are fake voters, or illegal voters. Many of the names on those lists are from active military personnel or their spouses.
A letter sent Nov. 5 on behalf of President Donald Trump's reelection campaign to Attorney General William Barr alleges that 3,062 voters who do not live in the state of Nevada "improperly cast" absentee ballots in the 2020 election. But the list that accompanies the letter of those accused of "criminal voter fraud" contains hundreds of overseas military post office boxes and more than 1,000 locations where military personnel are stationed, such as Minot, North Dakota; Edwards and Fort Irwin, California; Hill Air Force Base, Utah; Carlisle, Pennsylvania; and Yuma, Arizona.

To at least one military spouse whose residences of Henderson, Nevada, and Davis, California, are listed — with their specific nine-digit ZIP codes (exact addresses are not included) — finding herself and her husband, an Air Force major, on the list was "shocking."

"To see my integrity challenged, along with other members of the military to be challenged in this way, it is a shock. And to be potentially disenfranchised because of these actions, that's not OK," said Amy Rose, who votes absentee and claims Henderson as her home while the couple is stationed in California.

The list contains at least 130 Army Post Office (APO) addresses, nine Fleet Post Office (FPO) addresses and 16 Diplomatic Post Office (DPO) addresses. It also contains hundreds of addresses from coast to coast, as well as Alaska and Hawaii, in cities known to have large military populations. By law, military voters may vote absentee in their home of record or choose to register to vote in the state in which they reside. In the 2016 presidential election, 3,047 uniformed service members voted in Nevada, according to the Election Administration and Voting Survey.
To be fair, all of those military peeps and their spouses already know that they're suckers and losers to Donald Trump. Why wouldn't he also try to negate their votes? It's absolutely insane to see the kind of bullsh-t Republicans will put up with. This should be the Democratic Party's ad for the next four years.
Photos courtesy of Backgrid.
————————
Originally published at https://www.celebitchy.com/688733/donald_trump_seethed_his_way_through_a_trip_to_arlington_his_first_event_in_five_days/ on .