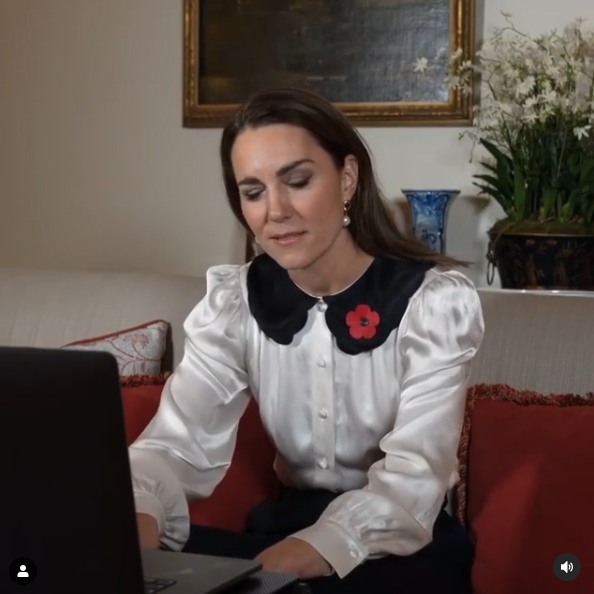 I'll be honest, it didn't even occur to me that CopyKate was at it again when I covered that video posted by Kensington Palace, of the Duchess of Cambridge speaking to military families for Armistice Day. For months now, William and Kate have been making all of their Zoom calls from what looks like an office or a spare bedroom, some dull, lifeless room inside Anmer Hall with little to no personality (just like W&K, if I'm being honest). But suddenly, after see the Duke and Duchess of Sussex use different Zoom set-ups within their Montecito home, Kate was keen to film this Zoom call in some kind of room with personality, or at least with personal photos and Royal Collection paintings in the background. Sitting on a couch with art and personal touches all around to Zoom? Meghan did do it first, at least in the Windsor clan.
I'm also still grotesquely fascinated by Kate's Ghost blouse, which should be burned in a cleansing fire. The Daily Mail has a big, dumb story about how Peter Pan collars are back in style, and they quote "celebrity stylist Rochelle White" who said this with a straight f–king face: "The statement collar is the new 'look at me' neckline. Instead of rocking necklaces and simple jewelry the statement collar can be eye catching, bold and impactful with little effort. If you wanted to add an accessory like the Duchess of Cambridge has, it can be sleek, stylish and simple." That sounds like shade, right? The "with little effort" made me side-eye. Anyway, this blouse is God-awful but if you want to believe that this sh-t is back in style, bless.
As for the photos behind Kate in the Zoom call – various outlets have done a breakdown of which photos they are. What I find interesting is that all of the framed photos behind Kate were pics that Kensington Palace released over the past few years. There were no "new to us" photos. Which seems odd, right?
The Duchess of Cambridge spoke with Armed Forces families who have lost loved ones to hear about the importance of #Remembrance week to them, and about the support that they receive from the Armed Forces community, other bereaved families, and from @PoppyLegion. pic.twitter.com/fhSZv4HTNz

— The Duke and Duchess of Cambridge (@KensingtonRoyal) November 10, 2020
Screencaps courtesy of Kensington Palace video.
————————
Originally published at https://www.celebitchy.com/688826/duchess_kates_peter_pan_collar_is_being_called_the_new_look-at-me_neckline/ on .