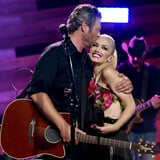 On Nov. 15, Gwen Stefani and fiancé Blake Shelton made a "date night" out of the latter's nomination at the People's Choice Awards. Even though Gwen couldn't actually be inside the venue with him due to COVID-19 safety protocols, she made sure that Blake knew just how proud she was of his top country artist nomination. "So basically, I have to stay in the car because of COVID. But I'm here to support Blake in case he wins," Gwen stated in an Instagram Story. It seems Gwen had more faith than Blake did, because when she asked whether he thought he was going to win, he immediately said, "No, I don't."
While the pair waited for Blake's category to be announced, the couple sweetly sang along to their song "Happy Anywhere," which just happened to be playing on the radio. "OK, we are back, we are back and Blake Shelton just won a People's Choice Award," Gwen added on her Story with a squeal of excitement. In his speech, Blake took a moment to recognize Gwen, saying, "Thank you to my new fiancée, Gwen Stefani. S-T-E-F-A-N-I if you need to Google it to figure out who she is. Thanks for inspiration." Gwen and Blake announced their engagement in an Instagram post on Oct. 27 after dating for five years.
————————
Originally published at https://www.popsugar.com/celebrity/gwen-stefani-celebrates-blake-shelton-pca-win-on-instagram-47974557 on .