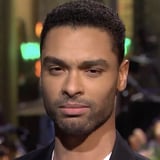 We burn for @regejean. pic.twitter.com/aq6Be1LA68

– Saturday Night Live – SNL (@nbcsnl) February 21, 2021
Regé-Jean Page made his hosting debut on Saturday Night Live on Feb. 20, and excuse me, your grace, but I'm going to need a minute to get myself together. During his opening monologue, the 31-year-old British-Zimbabwean actor had me – and likely everyone else watching – swooning as he worked his sexy smolder for the audience and recited his famous "I burn for you" line from Bridgerton. At one point, Daphne Bridgerton even joined him on stage – OK, it wasn't the real Phoebe Dynevor, but Chloe Fineman did make a pretty good Daphne. To be honest, I don't even know what happened next because the moment he started singing "Unchained Melody" by The Righteous Brothers it was all over for me. Can the Duke of Hastings just host SNL every week from now?
————————
Originally published at https://www.popsugar.com/entertainment/reg%C3%A9-jean-page-saturday-night-live-monologue-video-48175713 on .