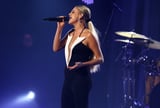 If you caught Kelsea Ballerini's 2020 CMA Awards performance on Nov. 11, you might have done a double take at her surprisingly familiar outfit. While singing her hit "Hole in the Bottle," Ballerini wore a plunging jumpsuit reminiscent of a tuxedo and paired the look with a chic top hat. The outfit was a direct shoutout to Shania Twain's 1997 "Man! I Feel Like a Woman" music video, which Ballerini confirmed when she ended her performance by shouting, "Let's go, girls!" So, what inspired Ballerini's fun throwback? Shortly after the performance aired, Ballerini revealed that she and Twain are dropping a "Hole in the Bottle" collaboration!
"Time to spill the wine . . . hole in the bottle with @shaniatwain out tomorrow at midnight est [sic]," Ballerini captioned an Instagram post revealing the exciting news. "We're leakin' all this wine. Hole In The Bottle dropping Friday!" Twain added in a separate Instagram post. Ballerini and Twain's collab drops at 12 a.m. ET on Nov. 12. In the meantime, pour yourself a tall glass of red wine and check out Ballerini's CMAs performance here.
————————
Originally published at https://www.popsugar.com/entertainment/kelsea-ballerini-2020-cmas-performance-video-47964293 on .