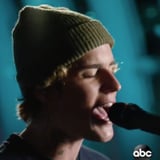 Over one year after the release of their song "10,000 Hours," Dan + Shay took the stage alongside Justin Bieber at the CMA Awards on Wednesday to perform the song live for the first time. The heartwarming ballad, originally released in October 2019, perfectly encapsulates the feeling of romance, and Bieber's harmonies with Shay Mooney are only making us fall harder for the love song. The performance comes just hours after Vulture revealed that a few performers dropped out of the show on Nov. 11 after testing positive for COVID-19, raising concerns about the CMA's COVID-19 safety precautions.
The music video for "10,000 Hours," which also originally dropped in October 2019, was filmed shortly after Bieber married his wife Hailey Bieber (née Baldwin) for the second time on Sept. 30, 2019. The video features the newlywed couple basking in their love for one another as the romantic lyrics are sung. Check out a clip from Bieber's CMAs performance with Dan + Shay here, and prepare to stare off wistfully into the middle distance like a lovestruck rom-com character.
————————
Originally published at https://www.popsugar.com/entertainment/justin-bieber-dan-shay-2020-cma-awards-performance-video-47964026 on .