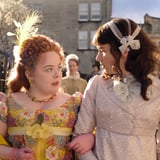 Bridgerton fans know the mystery of Lady Whistledown's identity was the show's best-guarded secret until the big Penelope Featherington reveal in the season finale, but it turns out Nicola Coughlan was dropping hints since the Netflix show's first episode. On Feb. 20, the actress asked her Twitter followers if they happened to spot the "massive" Easter egg she hid in the series' pilot.
A few eagle-eyed viewers guessed correctly, while others had some pretty creative (and honestly, believable) theories for her big reveal. According to Coughlan, she specifically chose a "giant" feather prop for her first scene. Some might've interpreted the object as a nod to Penelope's Featherington lineage, but for Coughlan, the feather symbolized a *drumroll please* quill. That's right, from the moment we meet Penelope she's pointing us in the direction of her mischievous writing ways. We feel like we totally should've seen this hint coming, but you better believe our eyes will be peeled when Bridgerton season two drops.
I'm very impressed with those that spotted it!
I decided on a prop for the scene where you first see Penelope, that prop happened to be a giant feather that looked a lot like…a quill 🪶 https://t.co/i6VDHGe5va

– Nicola Coughlan (@nicolacoughlan) February 20, 2021
————————
Originally published at https://www.popsugar.com/entertainment/nicola-coughlan-bridgerton-easter-egg-48175607 on .