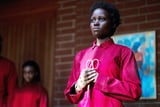 ICYMI, HBO Max has a treasure trove of killer movies. (And by killer, we mean that literally.) The streaming service is no stranger to box office thrillers, and we're here to inform you that the selection is stacked with chill-worthy titles. Complete with daunting, thrilling, and totally tantalizing picks, HBO Max should be your number one movie stop if you're looking for a flick that'll induce full body chills. Classic titles like Jaws and Kill Bill are ready for your watching pleasure, as well as newer hits like Ma and The Little Things which should definitely be in the queue.
Whether you're looking to be spooked or your guilty pleasure is watching flicks that make your heart race, these psychological thrillers on HBO Max will give you just what you need. Check out the hottest titles that you can stream now. Because nothing says movie night like being too scared to turn off the lights . . .
– Additional reporting by Corinne Sullivan and Stacey Nguyen
Related: HBO Max Is Home to Some of the Sexiest Movies of All – Stream Them Now
————————
Originally published at https://www.popsugar.com/entertainment/best-psychological-thrillers-on-hbo-max-48174227 on .