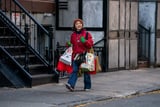 Netflix's feel-good series Dash & Lily already has us in the holiday spirit. The show, which is an adaptation of Rachel Cohn and David Levithan's 2010 novel Dash & Lily's Book of Dares, follows an unexpected romance that blossoms between strangers Dash (Austin Abrams) and Lily (Midori Francis). The two New Yorkers develop a bond by way of anonymous notes to each other, making their respective holiday celebrations in the Big Apple a bit unprecedented.
Dash & Lily is a watch so enjoyable, you'll likely feel a little bummed once you breeze through all eight episodes. But the fun doesn't have to stop there. Speaking with POPSUGAR, costars Abrams, Francis, Glenn McCuen, Dante Brown, and Troy Iwata revealed their favorite holiday movies that you can queue up to keep your festive binge going.
————————
Originally published at https://www.popsugar.com/entertainment/dash-and-lily-cast-share-favorite-christmas-movies-47967246 on .