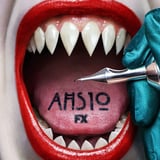 American Horror Story concluded the bonkers adventure that was its ninth installment in November 2019, and we're more than ready for what's in store for season 10. Since the anthology series was renewed for season 10 back in 2018, we didn't have to worry about whether it was coming back, either. And thanks to several reveals by Ryan Murphy, we have a fair idea as to what the mystery theme for the upcoming installment is!
It's been eight months since the AHS creator dropped the first artwork for season 10 on his Instagram page, and he's been teasing fans ever since. "Things are beginning to wash up on shore," he captioned the March 11 poster of a pair of hands that seem to be clawing their way out of the ocean. Since then he's dropped photos of a beach and a mouthful of razor-sharp teeth. It all comes together with the release of the season's official poster, which Murphy debuted on his social accounts on Nov. 11. There's no caption, but putting together all the clues, we're getting The Lighthouse vibes. Could we be diving under the sea in the next season with mermaids, sirens, or sharks making their way topside? Murphy loves playing with the fantastical, and none of the previous seasons have ventured fulled into the world of the ocean yet. I'm imagining a mashup of The Little Mermaid and The Shape of Water, which both intrigues and terrifies me.
Before he dropped the poster, the only thing the Pose producer revealed about the upcoming season is that it would be an epic cast reunion. When the full cast was officially announced, it was done with a video featuring footage of a dismal beach with Orville Peck's "Dead of Night" playing in the background.
"We're working on an idea for season 10 that I think people will love because it's about reuniting fan-favorite actors to come back – because it might be our last season," Murphy told Deadline back in January. "So, I've been quietly reaching out to various people. Some people I haven't reached out to yet because I was like 'Do I have a role for them?' So far, everybody I reached out to said 'Yes', so that's been great."
When it comes to naming the specific theme that will reunite said actors, Murphy kept mum. "We flirted with aliens, we flirted with space, we flirted with some things that were more interesting than others. I think that at the heart of it, it's always about Americana," he explained. "It's always a mysterious process of how I come up with the idea. I have a list of finalists on a piece of paper and I work on all of them. It's just where is my life when I'm working on them."
That sounds proper mysterious, and we're officially intrigued! While season eight's Apocalypse reunited characters from fan-favorite seasons like Asylum and Coven, it's important to note that Murphy only said the actors would be coming back – not the characters. So, fans shouldn't get their hopes up that they'll be seeing any characters from previous seasons just yet. But considering that the only hints we've been given about season 10 involve the water, it's fair to say we'll be heading to the beach when AHS season 10 finally arrives at FX.
————————
Originally published at https://www.popsugar.com/entertainment/american-horror-storys-season-10-theme-46902103 on .