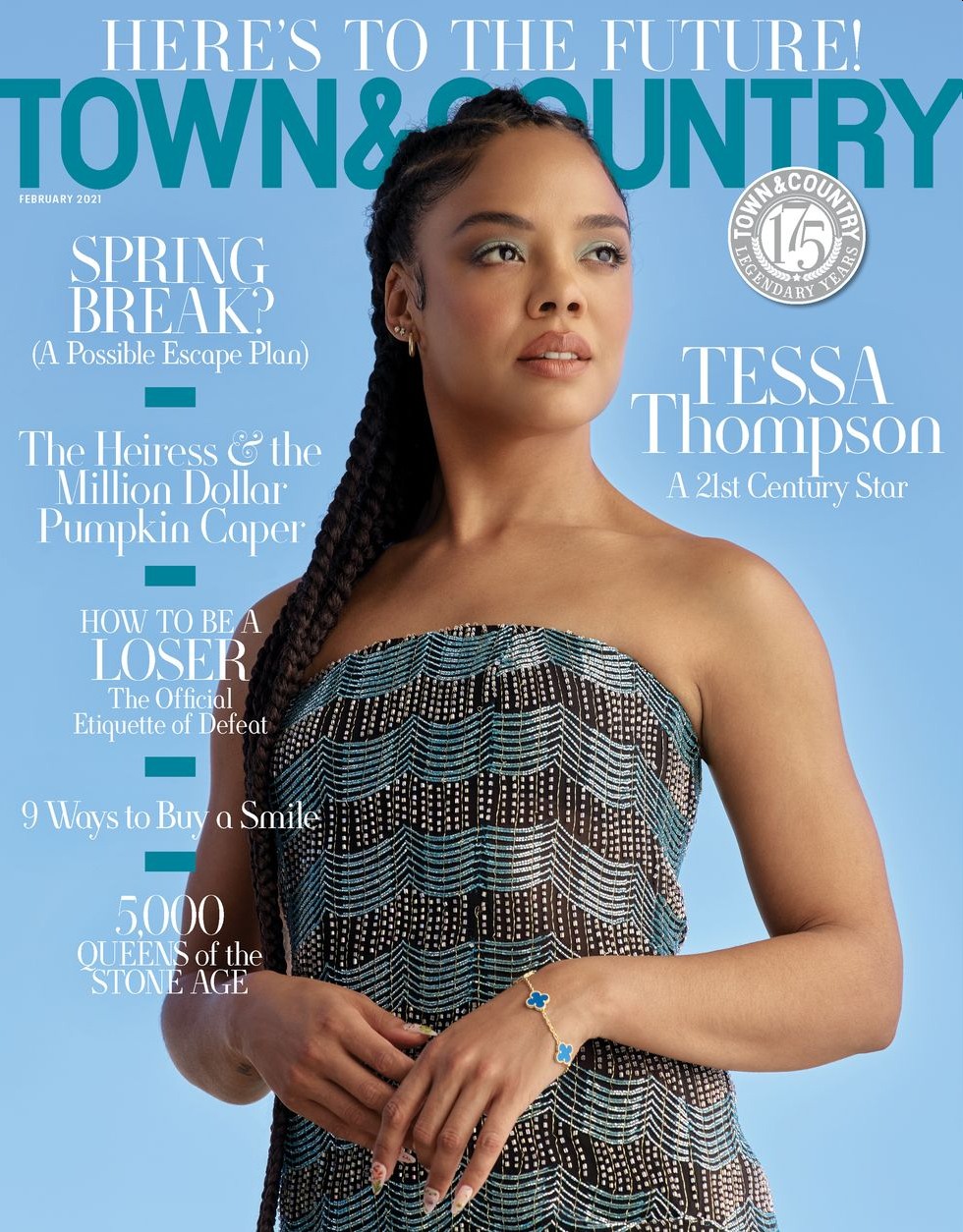 Did y'all know that Tessa Thompson is 37 years old?! I found that out as I read her Town & Country cover profile. For some reason – perhaps her beautiful, unlined skin – I thought she was in her late 20s, at most. I also consistently mistake Tessa for a British actress. I always have to check myself with "wait, is she British and just really good at American accents?" I don't know why I had it in my head that she's British. She was born in LA and she grew up there and in Brooklyn. She now lives in LA full-time and she graduated from Santa Monica College. She covers T&C to promote Sylvie's Love, a period romance-drama which she executive produced and stars in. The profile was written by Roxane Gay! Some highlights:
Speaking shortly after the election: "'How are you?' feels like a cruel question these days. It feels like things have been turned inside out this year," Thompson says. The world as it really is, she explains, "has been exposed in all its glory and gore, and maybe there is hope in that, in the sense that some of us are more awake than we have been."

People expect her to speak about politics & social/racial justice: "We're living inside this time where there's an expectation, if you have some measure of a platform, to use it. I'm not sure it's that useful all of the time. If I have a microphone, maybe the most useful way is just to pass it on to someone that knows more than I do."

On Sylvie's Love: "We haven't necessarily gotten to see ourselves as the romantic leads, and when we have, particularly in period pieces, there's less focus on the interpersonal, like how hard it is to be two humans trying to love each other. There's a lot of emphasis on historical context, which is, obviously, wildly important. I was conflicted as to whether it would work, whether you could tell a story like that."

She doesn't confirm or deny her bisexuality: No corner of Thompson's fandom is more passionate than her queer following. Though she doesn't explicitly identify as bisexual, in a 2018 interview she said she was "attracted to men and also to women."

Sometimes she needs to be the first person of color to speak: "There's invariably people in the room that have been silenced. I remember a distinct moment on set. A squeak just came out of me, I didn't even mean for it to, and then I could see the secret little smile on some of the women around the room, and you realize that there's a choir of wheels waiting to squeak together. It emboldens folks, and you realize you have support and you're not squeaking just on your own behalf. You're squeaking for everybody."
I like the point she makes about the expectation that she has to speak up about all of these issues simply because she has a name, a platform, a following. And she does speak up when it feels authentic to her. But we should also just let artists of color CREATE without apologies as well. Because that's the way 99% of white artists operate too – they only use their platforms as activists when they feel like it, and most of the time, they're just focused on creating. As for her point about "squeaking" – it's just a reminder of how many meetings there are where only white people (white men, mostly) speak and speak over women's voices and Black voices. I got the point she was making, but I always get depressed when I think about those meetings and how little really changes.
Cover and IG courtesy of Town & Country.
————————
Originally published at https://www.celebitchy.com/697097/tessa_thompson_on_the_activist_expectation_im_not_sure_its_that_useful_all_of_the_time/ on .