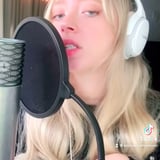 Alexis Rose's smash hit "A Little Bit Alexis" is already practically perfect, but a TikTok user might've figured out a way to make it even better. On Feb. 16, musician Emma Charles reimagined the Schitt's Creek track using "Creep" by Radiohead – an unexpected pairing, to be sure, but it weirdly works.
Charles's remix couldn't be more different than the show's energetic pop hit, written by Annie Murphy herself. The bounciness of the OG song is replaced by a somber tone, yet somehow, Charles included Alexis's signature voice inflections to keep things a little bit, well, you know . . . Rose-y. Check out the video below of her clever re-creation. We have a feeling Alexis would approve, if only because she'd love the admiration – and the "la, la, las," of course.
————————
Originally published at https://www.popsugar.com/entertainment/tiktok-schitts-creek-a-little-bit-alexis-creep-radiohead-48178074 on .